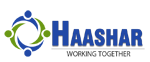 Duration of Project: Long Term
Funded By: Canadian Association for Children Education in Pakistan
Implemented By: Haashar Association
Canadian Association for Children Education in Pakistan (CACEP) is a Canadian NGO with main focus to provide education opportunities to children from fragile, conflict-affected areas of Pakistan. Most children are either orphans or bright children from ZAKAT (charity) eligible families with desperate financial needs.
Initially this project started as personal effort of Aamir Jamal, a Pakistani National settled in Canada who wanted to contribute to the enhancement of education in Pakistan. In 2010, Mr. Aamir Jamal started with a bunch of 14 students from District Abbottabad and District Mardan in KPK Province through volunteer accompaniment of his friends, Mr. Mushtaq Safi and Anees Ahmad Khan. Through experience in the field and conversations with volunteers and parents of sponsored children, it was found that instead of one person or a family sponsoring a child, most parents would appreciate funding coming from an institution without name of any individual sponsor attached to it. This brings dignity and respect to our children, their families and our program. Hence, CACEP was founded and registered in Canada which signed an Agreement with Haashar Association in Pakistan. Both the organizations initiated a project, Pakistan Education Support Project (PESP) starting with 22 sponsored children, mostly girls, in Hazara Division and Mardan District. Currently same regular monthly funding to deserving students is being provided but from a pooled institutional fund.
Main goal of this initiative is to engage whole community in education and development of their children.
Following steps have been devised to implement the project;
CACEP and the Haashar Association work through local volunteers identify and enlist children as per criteria developed through need assessment
A detail assessment of the child, his/her family background, financial difficulties, interest and willingness of parents/community for her education and academic record is carried out and a report is submitted to the board of CACEP.
CACEP Board evaluates students' financial needs and academic prospects and award scholarship.
Scholarship is generally awarded for 10 years that covers tuition fee, books, cloths, food and transportation cost.
Generally, tuition is paid directly to the school, cloths and books are delivered to the child with some money for grocery/food expenses. Due to severe poverty at home, we understand that food allowance might be shared with other children in the family.
To keep regular scholarship status child's parent/guardian are required to maintain certain obligations that include maintaining good academic standing, school attendance and following CACEP/Haashar required procedures for accounting and assessment purposes.
Haashar's staff and volunteers regularly visit child's village – meet his/her teachers, parents and the community to collect academic and other relevant information about the child.
Haashar Association regularly submits academic record and financial status of the project with CACEPTop of FormBottom of Form.